Moogfest 2016 in Durham, North Carolina
If you are looking for a festival that makes you think, learn and feel through the combined powers of technology and music then look no further. Moogfest is the festival for you. Moogfest has an interesting past. The whole thing started in New York City in 2004 as a one night gala to celebrate the anniversary of Moog, A popular America synthesizer brand started by Robert Moog. After 4 years in New York the festival had evolved in a way to include the musical performances that use the tools the festival praises. Because the size and scope of the festival was growing the festival moved to Asheville, NC, and now Durham.
Festi.World arrived in Chapel Hill, North Carolina, the town just east of Durham, on the Wednesday before the festival thinking about how they were going to use the quaint downtown area of the city for the festival. On Thursday morning we rolled into Durham, a very progressive a city, surrounded by universities and stuck between gender inequality issues and regeneration, and aside from all of the problems Durham is dealing with we were pleasantly surprised. Durham has everything a big city would have, tall building, shops, hotels, and businesses all while still transmitting that small-town feel. After a few hours in the city it was no problem navigating between the 20+ venues across the beautiful downtown area. Motorco Park / Music Hall were the furthest venues from any other, but the walk was only 9 minutes from anywhere else in the city.
Moogfest used the city in a very intelligent ways. First of all, Moogfest choosing Durham feels like a no-brainer after seeing all that exists there. Being situated in the Research Belt of America numerous tech startups also call Durham home. Small business and family run ventures are thriving. Over the last 8-9 years Durham has been through a massive regeneration which has turned old warehouses and tobacco factories into hubs for startups and new ventures. It's amazing how the city has opened up it's arms to allow for the future to roll in, and Moogfest has a really good knack at showing how the future is all around you. Multiple installations Moogfest mounted were just things people, without a pass or knowledge of Moogfest could walk up to an experience. Moogfest also put on outside shows that required no passes. Reggie Watts and DJ Lance Rock from Yo Gabba Gabba are two examples of the 9 free performances last weekend. Reggie's performance was on Saturday afternoon at one of the more fascinating venues apart of Moogfest. He performed at a park in the middle of an area called the American Tobacco Campus. The American Tobacco Campus is an old decommissioned Lucky Strike Cigarette manufacturing plant reconditioned to house businesses, start-ups, restaurants, apartments, and much more.
The American Tobacco Campus & Modular Market Place
The American Tobacco Campus was one of two of the major hubs at Moogfest. The Other being the Carolina Theater. The ATC was home to several installments and other Moogfest events. The first thing we saw walking up to the ATC was that IDEO, a design and innovation firm had an installment that involved large beach balls suspended from the ceiling of a caged-in basketball court. The balls were being hit by festival attendees to make sounds depending on how hard and what direction the ball was hit.
Exploring ATC throughout the weekend led to several discoveries such as an installation by Burt's Bees, oversized chess boards, and several performances. There were even hammocks if you wanted to take a load off but still be close to the events. The whole time surrounded by brick buildings with large windows, beautiful gardens, a crossable water way running the length of the factory, and groups of people with smiles on their faces with a very tall Lucky Strike smoke Stack anchoring it all nicely showing the preservation of history mixing with modern culture.
The ATC was also where Moogfest setup the Modular Marketplace. A weekend long pop-up synthesizer market where attendees could fiddle around with instruments made by Moog, Roland, Korg and many smaller, independent company made synths and instruments. Most of what festival goers could mess around with was on sale as well. So if you liked something that you were playing you could buy it right then and there at a reduced Moogfest price which was generally $100-$300 less than MSRP. Check out the album below for pictures of the Modular Marketplace.
Installations
All around the city, it doesn't matter where you are downtown, you will find yourself nearby to a Moogfest installation. The Canadian born, musical performer Grimes had an interactive installation called "Realiti" that had people entering a tent setup outside the Carolina Theater. People would "take a step inside" Grimes' music by offering a unique way to remix her music by pressing on mesh nets that trigger an overhead sensor, thus changing the sound of the music.
Most of the installations were interactive to a certain degree. You could rock up to a dome tent outside of the Durham Performing Arts Center and play with synthesizers, creating music with a group of strangers, feel a little awkward, but then walk away understanding the point a little bit more. "Body Scrub, Gender" was a smaller interactive installation that had people walking up to a television. The Kinect camera at the top of the tv would sense when a person would get close, map them and replace their image with floating male and female symbols.
A good amount of the installations left some people with their heads being scratched. But, that's a good thing. Those people will be walking around the city, with a whole weekend of excitement and enlightenment. Maybe along their Moogfest Journey they will start to understand what exactly that weird thing they came across exactly was, or maybe not and it will be a mystery forever. What the installations did do was get you thinking and get you talking. That is the true success.
Talks / Panels / Workshops / CLASSES
Durham, a smart city was only made smarter by the amount of scientists, urban planners, school teachers, engineers, philosophers, and cyborgs Moogfest brought as a part of their "Future Thought" side of events. The events apart of the Future Thought side could be anything from a discussion on the future of video game music to a panel on Afrofuturism focusing on Jamiacan dub music and sound systems.
One of the more popular panels was named Time Traveling with Hip Hop - Discussing Science's Role in Hip Hop. The talk was led by Author and Professor Mark Anthony Neil and his special guest GZA a.k.a. the Genius from The Wu-Tang Clan. GZA was a part of the panel to talk about his new project Dark Matter, a concept album that will have songs revolving around the ideas of the universe, stars, black holes and planets. GZA isn't keeping his love of science for himself either. He has recently been going to schools, ranging from elementary to college level, to talk to kids about how interesting science can be. His approach is that everyone can be interested in science, you just have to present it in an engaging and fun way.
One of the more popular classes at Moogfest was the aptly named "Moga" or Moog-Yoga. An interesting yoga class, taking place every morning of Moogfest on the rooftop of The Durham Hotel, that taught to the soothing sounds of Moog Synthesizers. It's an interesting pairing, but also very popular as the class was full the whole weekend. Other Moogfest classes had attendees building synthesizers, teaching children the theremin and taking people on tours to the offices of startups in the city. Moogfest may seem like you are simply going to have a fun time when you buy the tickets, but, even if you don't notice it you will walk away from Moogfest being a touch smarter. It's pretty incredible.
Music
Music is the last major leg of Moogfest that we will be talking about. But, what's to say!? Moogfest did an amazing job curating an awesome musical lineup for the weekend while considering artists that worry about the future advancements in music. I don't think we could name one show that didn't include a synthesizer or electronic instrument of some kind on stage, and that wasn't by accident. Moogfest did an awesome job setting up and mounting the music performances. The larger performances happened at Motocro Park, an regenerated scrap yard that is now being used as a park for live music. The Park saw performances from Grimes, Blood Orange, Miike Snow, HEALTH and more. The park is right next door to Motorco Music Hall, which is a car shop turned music hall. The music hall saw performances from GZA, Demo Taped, and Yacht.
The Durham Armory was another often used venue throughout the weekend. The old armory is now a fully fledged performing arts venue. The large ballroom inside can fit just about 6,000 people which made it the perfrect venue for performances from Bicep, The Black Madonna, Earthly, and The Orb. The Armory's centralized location also helped immensely and was spitting distance from The Carolina.
The Carolina Theater was a major hub of the festival and was used for the larger profile shows. The beautiful Beaux-Arts style theater can seat just over 1,000 people. Moogfest had the place packed to capacity for performances from GZA, Gary Numan, and Explosions In The Sky. Some of the shows were so popular you could see the line serpentining all the way down the street of lined-up food trucks feeding hungry festival goers.
Check out our pictures from the weekend's musical performances and Moogfest 2016 recap videos below!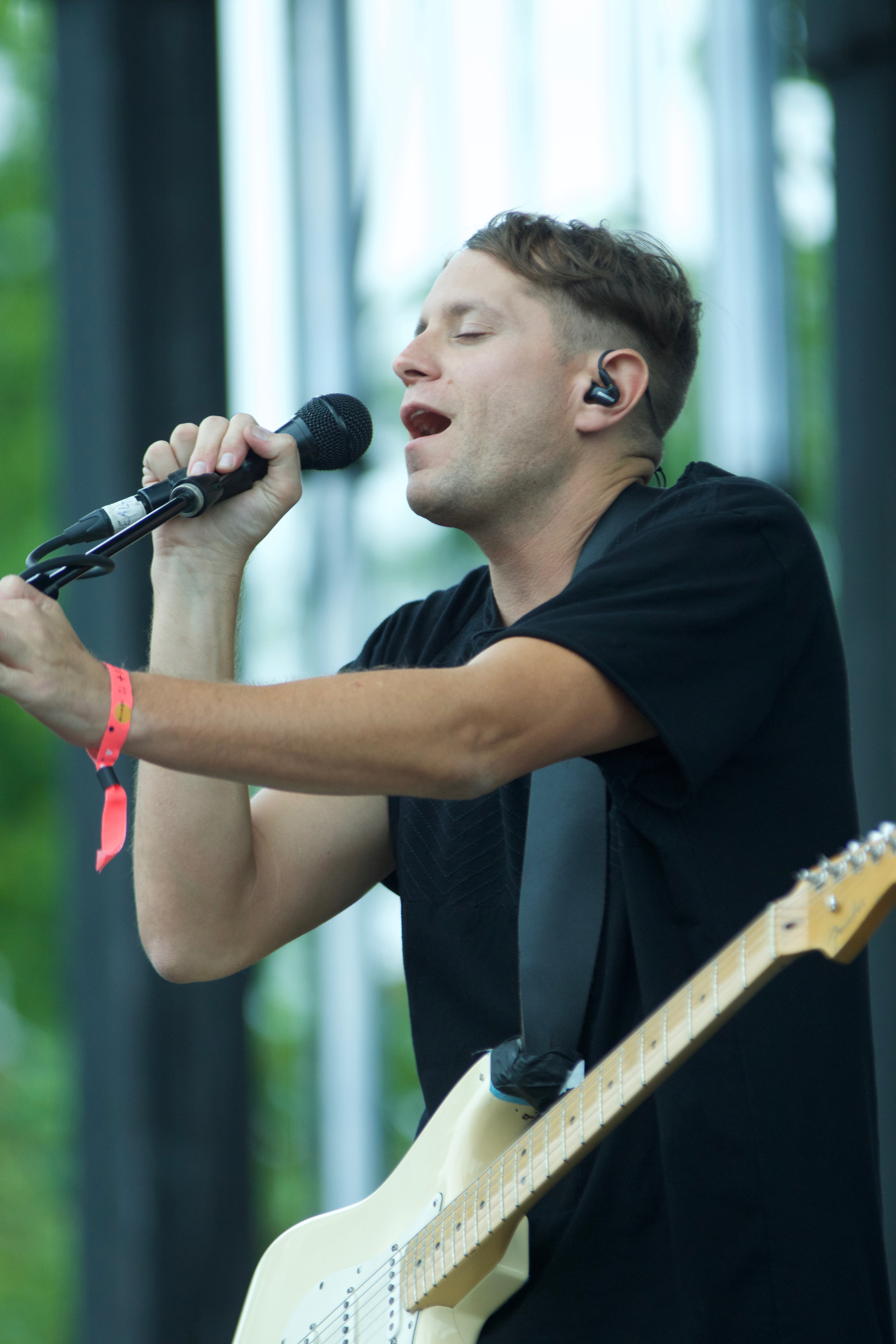 Dj Lance Rock / Yo Gabba Gabba
If you like what you just read then we highly recommend going to Moogfest next year. We guarantee and fun time for people who are looking for a little brain stimulation. Head on over to their official website for news on Moogfest 2017 and check back here for future updates on the next Mogfest!